About Little Bit
How It Began
We always say that it began with a coat and a chance encounter. In truth, I know that what happened on a dark, wintry day in 2001 was not coincidence. I was exactly where I needed to be. When my co-founder and I were asked to help provide coats to a St. Louis city elementary school, we weren't quite prepared for what we saw: students arriving with tattered shoes, clothes too small, no coats. One little boy's arms were blue from the cold; another was swimming in a man's coat with a broken zipper.
When they later came through our line to receive their new warm coats, they beamed with pride. The one who had been wearing his father's coat excitedly told me, "my dad will be so happy I have my own coat!" Returning home, my mind went into overtime. I kept hearing his words, seeing his sweet smile and the relief that washed over him knowing that he had one less worry. I wondered how a child could focus in school with all of the barriers that poverty puts in front of them. I couldn't shake it. Somehow, we needed to help support their education, if even just a little bit.
Today, those little things that many of us take for granted still have great meaning for the students we serve. A new pair of shoes. Clean underwear and socks. A book or toothbrush to call their own. But now in our adulthood, Little Bit has the benefit of years of understanding how deep the rivers of child poverty run.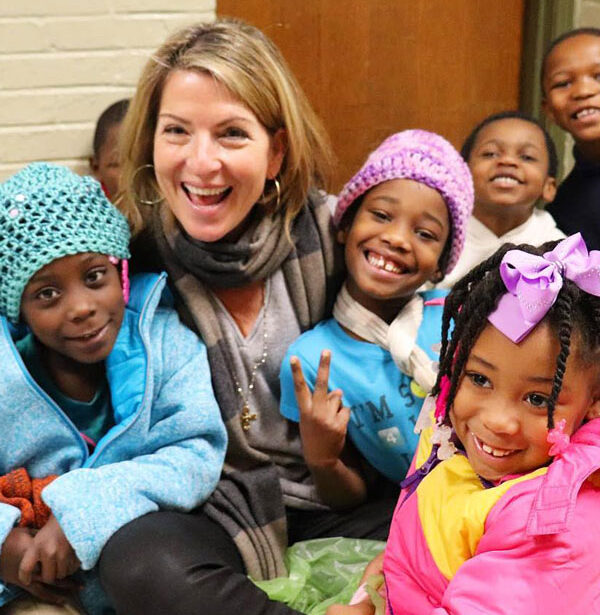 It's the impossible decision of a parent to buy food or pay the gas bill to keep the heat on. It's untreated medical or mental health conditions. For some, it's lack of stability, security, opportunity or hope for the future. As they grow, it's not just about going without but having to do more: care for younger siblings, go to work to contribute to the household income, balance responsibility with their own dreams.
As we've recognized the breadth of need, we've adapted to respond to those needs, building programs and partnerships that span a student's educational journey – from preschool through high school and beyond. The picture of poverty isn't pretty. But our children living in poverty are pure beauty. They're caring and kind, strong and resilient, bright and determined, joyful and grateful for a little bit of love in return. They keep us going, make the journey meaningful and deserve better.
Rosemary Hanley

Co-Founder
Learn about the many ways you can help support the Little Bit mission.